What people are saying about Mel Harvey...
---
"Many thanks for Saturday night. Everyone was amazed, we truly couldn?t believe our eyes - you?re so talented! It was great the way you worked the room, you paced it just right (bearing in mind how much our crowd talk, sorry about that). The champagne you produced at the end was pure magic and I can confirm it tasted great!
Genuinely, sincere thanks for the fantastic entertainment" - Sue Davenport
Oxford Instruments Industrial Analysis

---
"Speciality act Mel Harvey is billed as a comedy magician but this guy is really more of an institution in the business with a name that goes before him. On irresistible form at Showcall, he proved there was no substitute for experience" - Mark Ritchie, The Stage.

---
"I would like to say how much we appreciated you and your team for entertaining our foreign guests so well and at such short notice. I look forward to working with you again in the future." - Deborah Shingler, Conference Marketing Manager, City of Coventry.

---
"Wow! Do that again." - Ken Dodd, backstage at the Royal Spa Centre, Leamington Spa.

---
"Mel Harvey saved the day - his zany humour gets better and better... Great stuff from a great entertainer." - Mandy Davis, Abra Magazine.

---
"Reality and fantasy merge into one in the company of one of Britain's foremost close-up magicians. With his cheeky grin, razor-sharp wit, dextrous hands and flawless magic shows Mel Harvey has wowed many audiences worldwide." - Martin Stratton, Stratford Herald.

---
"First, let me say that I had never heard of the main performer; it was the comedy magic of Mel Harvey I had really come to see. Mel literally raced through a bevy of comedy material and finished on a high." - Donald Bevan, Abra magazine.

---
"I have worked with Mel Harvey onboard Silver Shadow.

His shows are excellent and the guests onboard loved them.

Apart from being a very good entertainer he is a team player which when working at sea is very important.

Mel does a very good "Close-up magic" show, which is great in the bar on a cocktail hour.

I have no problems in asking Mel to work for us again; I only hope that it is very soon."
Judie Abbott.
---
Mel Harvey has just completed a contract on board the luxury Cruise Ship Silver Wind.

Mr Harvey has been a great success on board. Considering there was a strong mix of both American and British Guests on board, this is a tremendous achievement.

Guests loved his style of comedy interspersed with his very fine magic and illusion. Individually guests were quite charmed by his art of prestidigitation, which he presented at tables in the lounges, by the pool and at dinner.

Many commented on his warm and friendly disposition. Mr Harvey is a tremendous asset to Silversea Cruises and certainly is welcome back at any time.
Colin S. Brown
Cruise Director Silver Wind
---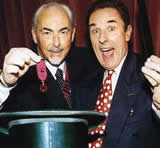 David Berglas, television's "Man of Mystery" presents Mel with the medal of the Inner Magic Circle with Gold Star.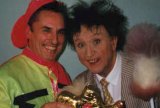 Mel with Ken Dodd, a friend who he has often worked with.