Mel Harvey's Children's Magic

From early days with Butlins and Pontins holiday camps Mel Harvey has been involved with family entertainments, these take the form of;-

The Traditional Punch and Judy Show
this can be seen as an entertainment for birthday's, weddings and fetes and galas plus as an educational aid for schools now that The Victorian Seaside is part of the school's curiculem.

For schools, cruise lectures and general talks Mel includes the complete history of Mr Punch and shows artefacts from his own personal collection.

The Punch and Judy show forms part of Mel's "Victorian Seaside Amusements" which can be booked for shopping centres and as a special attraction for all outdoor events.

Mel's Mad Hatter Magic Show




Mel's new children's show offers lots of comedy magic, balloon modelling, plate spinning and of course a tea party. Included in the show the children will see The White Rabbit, The Cheshire Cat and The Dormouse. Mel's ability to bring the story of Alice in Wonderland to life is well illustrated in this special show for all ages. Mel recently did a spot on "Sooty's Magic Show" and the comment was " Mel is a long standing entertainer who had the audience with him all the way. A highly commendable performance."
Geoffrey Newton P.R.O for The I.B.M.

The Pirates Ahoy Show
This is a great show for children of all ages and allows for dressing up as pirates. Included in the show will be The Cannon Ball Run, The treasure Map,Balloon Parrots of The Carribean,making the "Skull and Crossbones" Flag by magic and a special sequence called The Pirate and the Treasure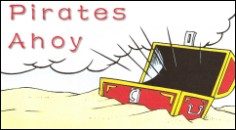 New for Nurserys & Playgroups
Mel has now devised a new show especially for the under fives. The Nursery Bricks and Tricks Show comes in a special Magic Box which contains lots of colourful Nursery Bricks. Inside each brick is a very funny trick suitable for all pre-school children. The show runs for about thirty five minutes and at the end all the bricks turn into a fairy castle and then there is a further surprise!!

This show can be adapted to fit various themes ie Halloween, Christmas and Easter.